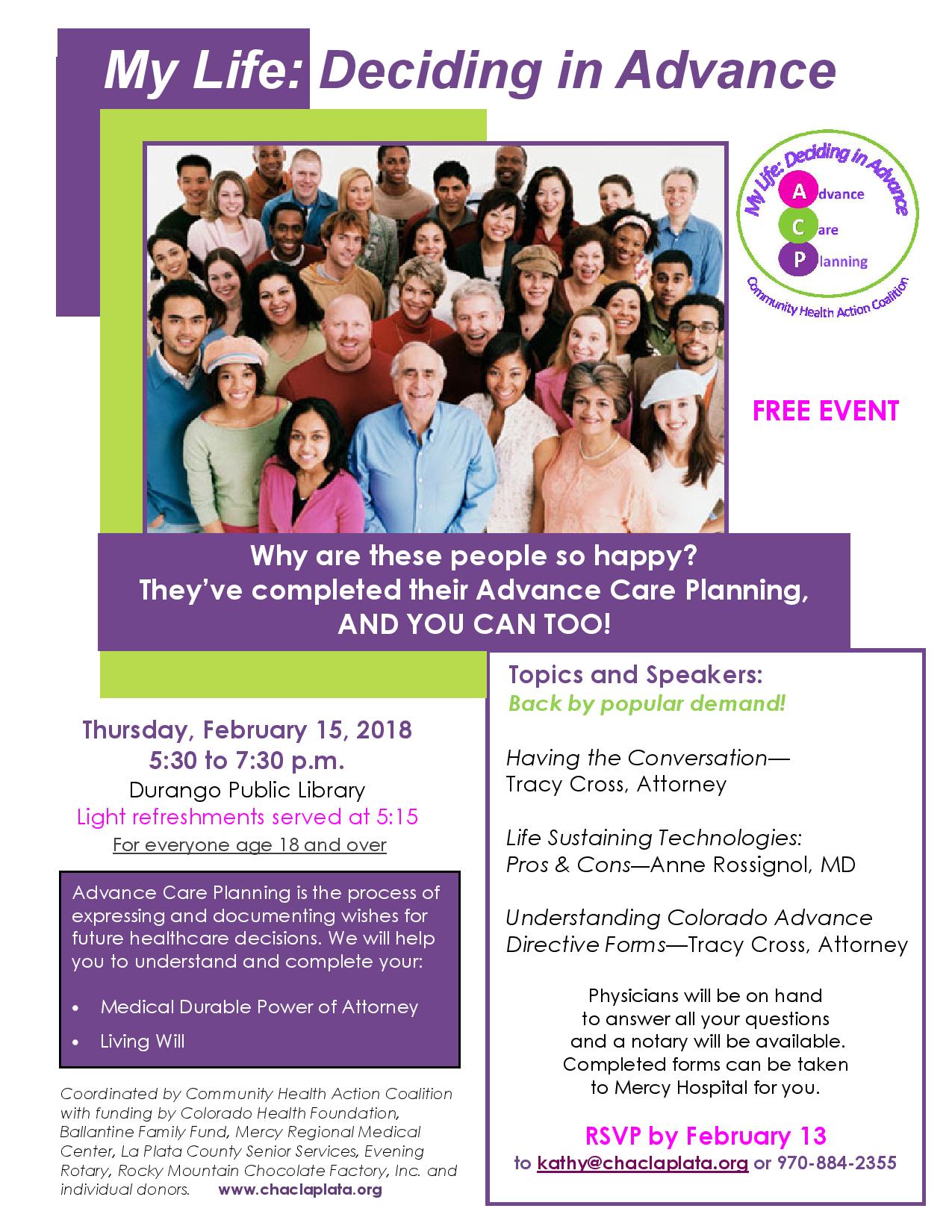 CHAC is leading a collaborative partnership to promote Advance Care Planning (ACP) among all adults 18 and older in La Plata County over two years. "My Life: Deciding in Advance" is being funded by the Colorado Health Foundation as the major financial supporter through Fall 2018.
Advance Care Planning (ACP) can be defined as the development and expression of wishes for of health care, including continuation or discontinuation of certain types of treatment and care. ACP allows a person to clarify their values and goals should they become unable to make a decision or speak for themselves in the future. The process can start at any time in an adult's life and should be revisited periodically. Advance care plans become more focused as health status changes, such as with the diagnosis of a disease or through the aging process. Ideally, advance care planning begins with conversations with a person's health care agent (usually a friend or family member) and loved ones and discussions with a primary clinician and leads to written documentation (Advance Directives) of the decisions made during the course of those discussions. It also is important to ensure documents are available in the healthcare system.
"My Life" includes community education, professional training and linking the community and healthcare system. This collaborative, community-based initiative is coordinated by CHAC and guided by an Advisory Committee of multiple organizations including Mercy Regional Medical Center, Axis Health System, La Plata County Senior Services, Four Corners Health Care Center, Colorado Regional Health Information Organization (CORHIO), a private attorney, DeNovo Health Advocacy and several dedicated individual experts. Many other partners also are involved as Resource Team members. Additional funding is provided by the Ballantine Family Fund, Evening Rotary, La Plata County Senior Services and individual donors.
To request a free presentation about ACP to any group in La Plata County, please contact Kathy@chaclaplata.org or (970) 884-2355.

DOCUMENTS
Medical Durable Power of Attorney (designates who you want to make medical decisions for you if you are unable)
Living Will (states the care you want and don't want)
Cardiopulmonary Resuscitation (CPR) (states that you do not want to "be brought back" if your heart or breathing stop)
Medical Orders for Scope of Treatment (MOST) (medical orders that a healthcare provider needs in order to carry out your wishes)
The Conversation Project Discussion Guide
Definitions and Resources
MAKE A DONATION
Please visit our crowd funding page for "My Life: Deciding in Advance" (here)
and consider making a donation. Thank you.
RESOURCES
Colorado Advance Directives Consortium
The Conversation Project in Boulder 
Phone: (720) 318-4457
Hospice and Palliative Care Association of the Rockies
Phone: (303) 848-2522
National Hospice and Palliative Care Organization
Phone: (703) 837-1500
National Institute on Aging
Phone: (800) 222-2225
ADVISORY COMMITTEE MEMBERS

IN THE NEWS
Durango Herald Article April 2017
Durango Herald Article May 2016
To watch ACP initiative co-leader Dr. Bob Cox on Durango TV, click here.
Start the conversation about Advanced Care Planning with your loved ones. ACP initiative co-leader Dr. Bob Cox discusses the important issues on Durango TV.
Our Funders: